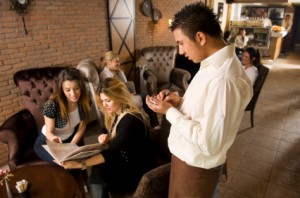 When one goes to a steak restaurant, let alone any restaurant, superior ones do not leave anything to chance. They want to provide an excellent dining experience while maximizing profits.
In a previous article, organizations were urged to "sell the steak, not the sizzle" as top quality restaurants do. Are there any concepts that restaurants use to maximize business that non-profits can adapt to grow?
Indeed there are. Here are four:
INFORM
Restaurants realize that they make more when they sell high priced steaks. They do this by being knowledgeable about their offerings.
How well can you describe the benefits of belonging to your association? Like a waiter, can you do so confidently, concisely and persuasively?
SERVICE
Restaurants realize that they have an opportunity for a high end sale everything a customer comes in. That is why good eateries make sure that visitors are acknowledged and processed promptly to make a good impression.
Non-profits must always be ready to welcome a potential new member at any time or deal with member complaints.
How do you handle such contacts? Is the telephone answered by a live person? Are email inquiries answered within 24 hours? Is your website up to date, easy to navigate, and interactive?
KNOWLEDGE
Waiters know the menu. Outstanding waiters know the menu, specials and preparation points inside and out. Why? So that patrons will rely on them to give them exactly what they are looking.
Association leaders and staff must be well versed in the mission, purpose, direction and services of their organizations.
Could members of your Board of Directors do this with a potential member? Can your staff do this as well or are they siloed into their respective areas of work? It is important to cross train and educate both staff and volunteer leaders so that they know what the organization offers.
IMPRESSIONS
Presentation is everything in a restaurant. From the entrance, to the decor, to the seating arrangements, to the linen and dishes on the table, to the appearance of the wait staff, everything is designed to make an impression.
The same is true for any non-profit. Attention to detail in the information presented in print or on the website is vital.
Is it clear to visitors and members alike what your association is about? Can it be easily determined what you offer, how much it costs and where to go to belong? If not, it is important to change so, like a restaurant, it is easy to get members to visit, belong and participate.
Inform. Service. Knowledge. Impressions.
Restaurant use them to build their business. Are you doing the same to help your organization prosper and grow?